MREs, Case of 12 Meals, 2021 Inspection Date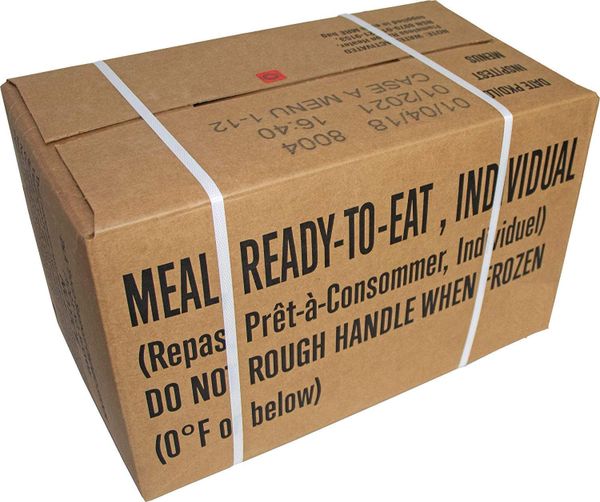 MREs, Case of 12 Meals, 2021 Inspection Date
Military Meals Ready-To-Eat
Date Packed 2018
Next Inspection Date 2021
All cases will have the red TTI indicator.
CASE A: MEALS 1 -12
CASE B: MEALS 13 - 24
*Scroll down to see menu list
Each order will receive ONE case of 12 complete MRE Meals.  Brand New in Original Sealed Package. Menu meals of each case will vary. We do not guarantee you will receive all 12 different menu numbered meals. You may receive 2 or 3 of the same menu meals. These cases were pre-packed and sealed by the manufacturer. We do not open them to check for the different type meals.
Great for emergency preparedness, boating, camping, survival pack, prepping, natural disasters, etc.  
The military meals are made to have a longer shelf life.
Military Cases MREs offer 12 different entrees packaged with side dishes, Candy, Desserts, Drink Powders, Mixing Packs, and the popular accessory pack with Coffee, Creamer, Sugar, seasonings, gum, toilet paper, and etc.  
1250 calories per meal
NOTE: Prices, specifications and availability are subject to change without notice. We reserve the right to correct typographic, photographic and/or descriptive errors. 
The photos are representative of the item(s) you will receive, but are not the actual item(s). The item(s) you receive may differ slightly in condition or appearance from the representative photos, but will be substantially the same in terms of their condition, appearance and functionality. 
Online and store prices may vary
2018 MRE MENUS:
(All menus contain a Spoon, Flameless Ration Heater, Hot Beverage Bag, Paperboard Sleeve, and Paperboard Insert Card unless otherwise indicated)
Menu 1

Chili with Beans

Cheddar Cheese Spread

Vegetable Crackers

Cornbread

Cheese Filled Crackers*

Beverage Powder, Carb-Fortified*

Accessory Packet A

Menu 2

Beef, Shredded, in Barbecue Sauce

Black Beans in a Seasoned Sauce

Jalapeno Cheddar Cheese Spread

Tortillas

Cookies*

Beverage Powder, Carb-Fortified*

Barbecue Sauce

Accessory Packet C

Menu 3

Chicken, Egg Noodles, and Vegetables, in Sauce

Wet Pack Fruits*

Crackers

Peanut Butter

Jelly/Jam*

Candy III*

Beverage Powder, Carb-Fortified*

HotSauce, Extra Hot 4x

Accessory Packet A

Menu 4

Spaghetti with Beef and Sauce

Toaster Pastries*

Peanut Butter

Multigrain Snack Bread

Dried Fruits*

Cocoa Beverage Powder, Milk Chocolate

Jelly/Jam*

Accessory Packet B

Menu 5

Chicken Chunks

First Strike Bar*

Cheddar Cheese Spread

Tortillas

Recovery Trail Mix

Candy II*

Beverage Powder, Carbohydrate Electrolyte*

Buffalo Hot Sauce

Accessory Packet B

(No FRH)

Menu 6

Beef Taco

Santa Fe Style Rice and Beans

Cheddar Cheese Spread

Tortillas

Nut and Fruit Mix w/ M&Ms

Orange Beverage Base, Sugar-Free

Accessory Packet A

Menu 7

Brisket Entrée (Gravy with Seasoned Beef Brisket Slices)

Potatoes Au Gratin

Dried Fruits*

Peanut Butter

Wheat Snack Bread*

Jelly/Jam*

Candy I*

Irish Cream Cappuccino Drink Mix

Accessory Packet B

Menu 8

Meatballs in Marinara Sauce

Garlic Mashed Potatoes

Cookies*

Jalapeno Cheddar Cheese Spread

Peppers

Italian Bread Sticks

Meat Snacks*

Beverage Powder, Carb-Fortified*

Accessory Packet C

Menu 9

Beef Stew

Pound Cake, Trans Fat Free*

Peanut Butter

Jelly/Jam*

Multigrain Snack Bread

Pretzel Snacks*

Beverage Powder, Carbohydrate Electrolyte*

HotSauce, Extra Hot 4x

Accessory Packet A

Menu 10

Chili and Macaroni

Pound Cake, Trans Fat Free*

Jalapeno Cheddar Cheese Spread

Vegetable Crackers

Meat Snacks*

Candy I*

Beverage Powder, Carbohydrate Electrolyte*

Crushed Red Pepper

Accessory Packet A

Menu 11 (Vegetarian)

Vegetable Crumbles with Pasta in Taco Style Sauce

Wet Pack Fruits*

First Strike Bar*

Chunky Peanut Butter

Crackers

Nuts*

French Vanilla Cappuccino Drink Mix

Chili and Lime Hot Sauce

Accessory Packet B

Menu 12 (Vegetarian)

Elbow Macaroni in Tomato Sauce

Wet Pack Fruits*

Cheddar Cheese Spread

Wheat Snack Bread*

Candy III*

Chocolate Protein Drink Powder

Hot Sauce, Extra Hot 4x

Accessory Packet A

Menu 13 (Vegetarian)

Cheese Tortellini in Tomato Sauce

Instant Pudding*

Chocolate Peanut Butter

Crackers

Recovery Trail Mix

Beverage Powder, Carbohydrate Electrolyte*

HotSauce, Extra Hot 4x

Accessory Packet C

Menu 14 (Vegetarian)

Creamy Spinach Fettuccine (Egg Noodles, Spinach and Mushrooms in a Cream Sauce)

First Strike Bar*

Peanut Butter

Crackers

Pretzel Snacks*

Chocolate Protein Drink Powder

HotSauce, Extra Hot 4x

Accessory Packet A

Menu 15

Mexican Style Chicken Stew

Wet Pack Fruits*

Cheese Filled Pretzels/Crackers*

Jalapeno Cheddar Cheese Spread

Crackers

First Strike Bar*

Cocoa Beverage Powder, Chocolate Hazelnut

Crushed Red Pepper

Accessory Packet B

Menu 16

Chicken Burrito Bowl (Chicken with Rice, Beans and Vegetables)

Corn Nuts/Baked Snack Crackers*

Filled Bakery Item*

Tortillas

Cheddar Cheese Spread

Hot Sauce, Extra Hot 4x

Beverage Powder, Carb-Fortified*

Accessory Packet C

Menu 17

Maple Pork Sausage Patty

Maple Muffin Top, Trans Fat Free

Peanut Butter

Crackers

Nuts*

Beverage Powder, Carbohydrate Electrolyte*

Maple Syrup

Accessory Packet A

Menu 18

Beef Ravioli in Meat Sauce

Chocolate Banana Nut Muffin Top, Trans Fat Free

Cheddar Cheese Spread

Wheat Snack Bread*

Meat Snacks*

Beverage Powder, Carb-Fortified*

HotSauce, Extra Hot 4x

Accessory Packet C

Menu 19

Beef Patty, Grilled, Jalapeno Pepper Jack

Cherry Blueberry Cobbler

Cookies*

Bacon Cheddar Cheese Spread

Tortillas

Candy II*

Orange Beverage Base, Sugar-Free

Ketchup, Mustard

Accessory Packet A

Menu 20

Hash Brown Potatoes with Bacon, Peppers and Onions

Granola with Milk and Blueberries

Filled Bakery Item*

Cheddar Cheese Spread

Crackers

Nuts*

Orange Beverage Base, Sugar-Free

Accessory Packet A

Menu 21

Lemon Pepper Tuna

Pound Cake, Trans Fat Free*

Cheddar Cheese Spread

Tortillas

Corn Nuts/Baked Snack Crackers*

Beverage Powder, Carb-Fortified*

Mayonnaise, Fat Free

Accessory Packet B

Spoon

(No FRH)

Menu 22

Asian Style Beef Strips with Vegetables

Wet Pack Fruits*

Chunky Peanut Butter

Jelly/Jam*

Wheat Snack Bread*

Patriotic Sugar Cookies

Cocoa Beverage Powder, Milk Chocolate

Accessory Packet B

Menu 23

Pepperoni Pizza Slice

Cherry Blueberry Cobbler

Jalapeno Cheddar Cheese Spread

Italian Bread Sticks

Cookies*

Chocolate Protein Drink Powder

Accessory Packet A

Menu 24

Southwest Style Beef and Black Beans with Sauce

Apple Pieces in Spiced Sauce

Pound Cake, Trans Fat Free*

Meat Snacks*

Cheddar Cheese Spread

Chipotle Tortillas

Mocha Cappuccino Drink Mix

Accessory Packet B
Accessory Packet contents:
| | | |
| --- | --- | --- |
| Accessory Packet A | Accessory Packet B | Accessory Packet C |
| Coffee | Beverage Base, Sugar Free | Coffee |
| Creamer | | Creamer |
| Sugar | | Sugar Substitute (Sucralose) |
| Matches | | |
| Chewing Gum, Sugar Free | Chewing Gum, Sugar Free | Chewing Gum, Sugar Free |
| Towelette | Towelette | Towelette |
| Salt | Salt | Salt |
| Toilet Tissue | Toilet Tissue | Toilet Tissue |
* Flavors or types, shall be assembled in a distribution which provides the greatest variation of flavors and types in accordance with this table:
| | | |
| --- | --- | --- |
| Item | Menu | Flavor |
| Beverage Powder, Carbohydrate, Fortified | 1, 2, 3, 8, 16,18, 21 | Lemon-lime, orange and tropical punch |
| Beverage Powder, Carbohydrate Electrolyte | 5, 9, 10, 13, 17 | Fruit punch, grape, lemon-lime and orange |
| Cakes, Pound, Trans Fat Free | 9, 10, 21, 24 | Vanilla, lemon poppy seed, spice, carrot, marble and applesauce |
| Candy I | 7, 10 | Chocolate flavored toffee roll, cherry licorice and peppermint mint candy rings |
| Candy II | 5, 19 | Pan coated candy: plain milk chocolate disks, plain peanut butter disks and milk chocolate with peanuts oval/round |
| Candy III | 3, 12 | Pan coated candy, disks, fruit flavored: original, berry and sweet and sour |
| Cookies | 2, 8, 19, 23 | Oatmeal, chocolate chip and oatmeal chocolate chunk |
| Dessert Powder, Pudding | 13 | Vanilla and chocolate |
| Filled Bakery Item | 16, 20 | Filled French toast, cinnamon bun and apple turnover |
| First Strike Bars | 5, 11, 14, 15 | Chocolate, apple-cinnamon and cran-raspberry |
| Fruits, Infused, Dried | 4, 7 | Sliced cranberries and seedless whole raisins |
| Fruits, Wet Pack | 3, 11, 12, 15, 22 | Raspberry applesauce, carbohydrate enhanced applesauce, mango and peach applesauce, pears and mixed fruit |
| Jelly and Preserves (or Jams) | 3, 4, 7, 9, 22 | Apple, grape and blackberry, strawberry |
| Meat and Poultry Snacks, Cured | 8, 10, 18, 24 | Smoked beef strips and Teriyaki beef sticks |
| Nuts, Shelled, Roasted | 11, 17, 20 | Salted dry roasted peanuts, jalapeno cashews and smoked almonds |
| Snack Bread, Fortified | 7, 12 18, 22 | Wheat and white wheat |
| Snack Foods, Cheese Filled | 1, 15 | Cheese filled crackers (cheddar cheese and pepperoni pizza) and Filled pretzels (cheddar cheese) |
| Snack Foods, Other | 16, 21 | Toasted corn kernels (salted plain and barbecue) and Baked snack crackers (cheddar cheese and hot and spicy cheese) |
| Snack Foods, Pretzels | 9, 14 | Salted plain sticks and honey mustard and onion nuggets |
| Toaster Pastries | 4 | Frosted brown sugar cinnamon and swirled icing chocolate chip |
Reviews
Featured Products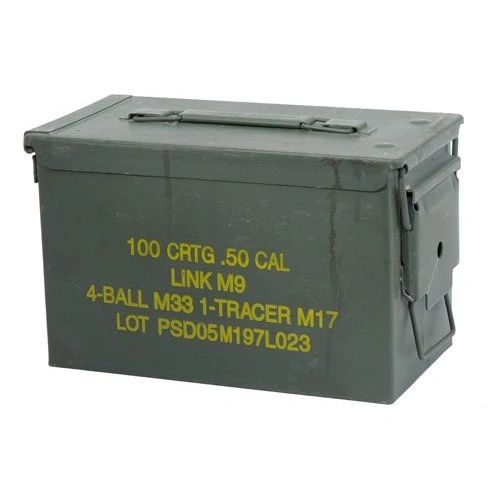 .50 Cal. Ammo Can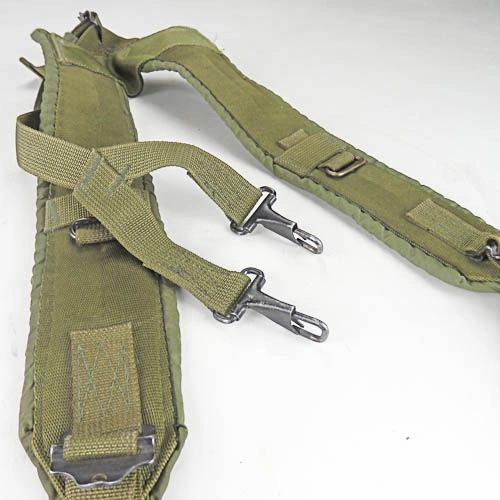 ALICE LC-2 Y-Harness Suspenders | Used
$12.99