ALICE Entrenching E-Tool Carrier Shovel Cover LC2 | USED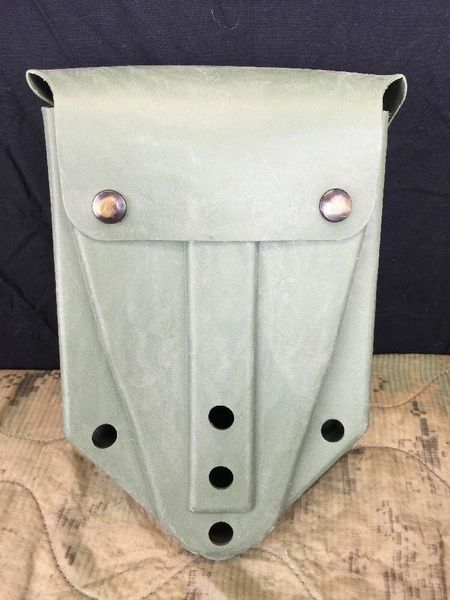 ALICE Entrenching E-Tool Carrier Shovel Cover LC2 | USED
EUC ALICE Entrenching E-Tool Carrier / US Military Shovel Cover LC2 w 2 CLIPS

GENUINE U.S. MILITARY ISSUE
US Military VINYL PLASTIC ALICE E-TOOL POUCH CARRIER COVER
WITH 2 ALICE CLIPS
COLOR: OLIVE DRAB GREEN (some may be different shades)
The Entrenching Tool (E Tool) Carrier is used to carry the Military Issue 3-way Folding Shovel (E Tool). It will also hold most of the Imported aftermarket Military Style E-Tools as well. Made of Soft Heavy Duty Plastic Vinyl with 
2 Metal Snap Closures. Also Includes the Metal Alice Clips on Back for Attachment to a Belt. Inside dimensions are 6 1/2" Wide x 1.5" Deep x 9.5" Tall (inches). It can be Attached to the Individual Equipment Belt or any belt or Strap less than 2 1/4" with supplied ALICE Clips. It also is made to attach to PALS webbing the clips slide through the webbing just fine or you can use Molle Adapters. 
• Fits US Military Entrenching Tool or E-Tool and most Similar Style Imports
• Includes 2 Alice Clips for Attaching to Gear
• Size is Approx.: 10" high x 7" wide x 2" deep
• Can also be used as an Extra Pouch
• Attaches to: Rucksack, Assault Pack, Patrol Pack, Pistol Belt, etc., etc.
• Compatible with MOLLE & MOLLE II Systems with ALICE MOLLE Adapters (Available in our Store).
• Fold over Top with 2 Front Snap Button Closure
• Made of Vinyl Rubber - Protect your E Tool
EXCELLENT USED CONDITION: US Military Surplus, previously issued, excellent used condition, no tears or rips. ALL POUCHES WILL HAVE FUNCTIONAL PARTS (SNAPS, STRAPS, CLIPS, ETC.) Some may have minor scratches on the exterior / interior.  Scuff marks on snaps.  Please ask questions.  We are here to help. SEE PHOTOS FOR EXAMPLES OF CONDITION. 
WE TRY TO INSPECT EVERY ITEM AND WE WILL SHIP THE BEST CONDITION FIRST. The shades of OD green may be different; some are lighter and some are darker shades of Olive Drab Green.  
The photos are representative of the item(s) you will receive, but are not the actual item(s). The item(s) you receive may differ slightly in condition or appearance from the representative photos, but will be substantially the same in terms of their condition, appearance and functionality.
Featured Products