ECWCS Generation III Level 5 Jacket (RFI Issue), ACU Pattern Large Regular EUC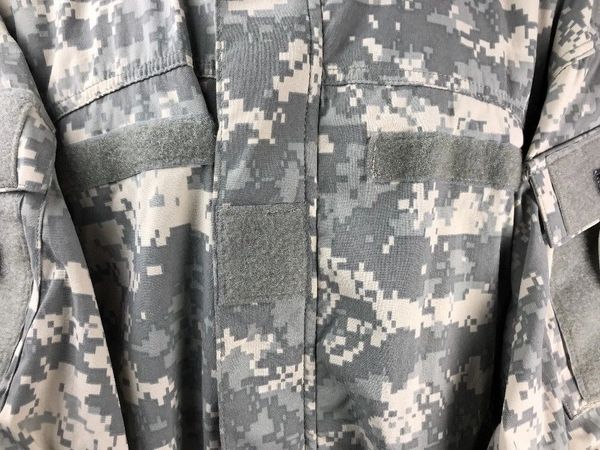 ECWCS Generation III Level 5 Jacket (RFI Issue), ACU Pattern Large Regular EUC
ECWCS Generation III Level 5 Jacket (RFI Issue), ACU Pattern

JACKET ONLY
SIZE: LARGE REGULAR
TAG DESCRIPTION: JACKET, SOFT SHELL COLD WEATHER
MATERIAL: 99% NYLON, 1% LYCRA
NSN: 8415-01-538-6819
COLOR: ACU UNIVERSAL DIGITAL CAMOUFLAGE PATTERN
Product Description
This is the original item that is being issued by the US military.
Soft Shell Cold Weather Jacket & Trousers
Shell Layer: Designed to be worn with base and insulative levels for use in moderate to cold conditions. Note: This item is roughly equivalent to the Gen 2 ECWCS parka.
The GEN III ECWCS Soft Shell Cold Weather Jacket is designed for use in cold weather conditions as a soft shell layer combined with other base and insulative layers.  Constructed with water resistant materials the Level V Soft Shell Jacket provides light weight, low bulk and extreme comfort for movement. When combined with base and insulative layers this level serves as an excellent outer shell in moderate to cold environments.
The Level V jacket features a two-way center-front zipper opening with a protective wind flap as well as an elastic cord in the bottom hem for adjustability. It is also constructed with a high collar containing a collapsible hood, Velcro closure sleeve pockets and two front zipper pockets, ventilation openings under the sleeves and Velcro fasteners to attach rank badges and name tags. All zippers have a thong for ease of opening and closing when wearing gloves.
A jacket designed primarily for protection at mean monthly temperatures of plus 14 degrees Fahrenheit (minus 10 degrees Celsius) to plus 68 degrees Fahrenheit (plus 20 degrees Celsius).

Condition: Item is in excellent condition. Looks barely used/Like New
Featured Products