Gasmask - Czech Gas Mask w/ Filter - CM4 - Unissued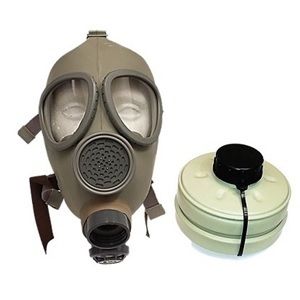 Gasmask - Czech Gas Mask w/ Filter - CM4 - Unissued
Gasmask - Czech Gas Mask w/ Filter - Type CM4 - Unissued

The Czech CM4 gray gas mask with filter is intended to protect the face, eyes, and respiratory system from toxic gases, vapors, and aerosols including radioactive dust and biologically harmful substances. The Czech CM4 is lightweight, and specially designed for extended use with superior comfort, secure fit, and low breathing resistance. This gas mask offers a high level of protection for mature users. This Czech gas mask also comes equipped with a 40mm sealed NATO standard filter that directly purifies the gas mask users air for easier breathing. This protective respiratory system provides full facial coverage with dual eye openings for a clear view. The Czech CM4 comes with an attached drinking apparatus for fluid intake, this makes it possible to drink beverages with the gas mask on. The Czech gas mask also comes with a plastic drinking unit and a special valve-containing stopper. This gas mask is designed for mature users as well as intended for civilian use. The Czech gas mask with NATO filter has a design that offers optimum comfort and security. This protective face-mask causes minimal interference with physical activities.
SPECIFICATIONS AND FEATURES:
Impact resistant protective lenses with excellent optics.
Voicemitter providing clear and effective communication.
Includes plastic drinking system.
The photos are representative of the item(s) you will receive, but are not the actual item(s). The item(s) you receive may differ slightly in condition or appearance from the representative photos, but will be substantially the same in terms of their condition, appearance and functionality.
Reviews