Jolt Stun Gun 56 Million VOLTS | JMS56BK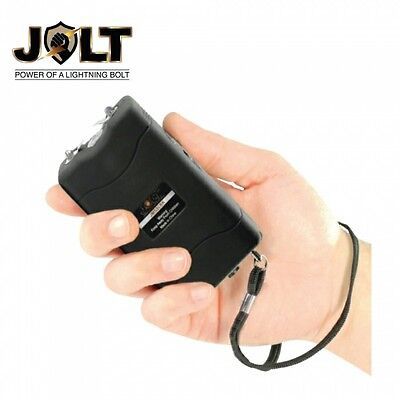 Jolt Stun Gun 56 Million VOLTS | JMS56BK
Jolt Stun Gun 56 Million VOLTS 
Features:
Powerful Stun Gun: Just test firing this unit into the air is often enough to stop an attacker. As the bright electric current pulsates across the top, it creates an intimidating electrical sound. An attacker with any sense will be stopped in his tracks. If the sight and sound don't stop him, a "jolt from a Jolt" certainly will.

Built-In Charger: The slide-out plug allows for easy charging. There are no cords to keep up with; simply plug into a standard wall outlet. 


Bright LED Flashlight: The LED flashlight provides a convenient source of light whenever you need it and eliminates the need to carry a heavy, bulky flashlight.


Safety Switch: To prevent accidental discharge, three levels of safety have been built in. The safety pin must be inserted, the safety switch must be in the on position and the Stun Activation Button must be pressed before the stun will operate.


Rubberized Armor Coating: Protects the unit and ensures a firm grip.


Disable Pin: With the lanyard around your wrist, if the stun gun is pulled from your hand, the disable pin will be disengaged and the unit cannot be used against you.
Holster Included: A nylon holster with belt loop is included for easy carrying.


Warranty: Our JOLT Stun Guns are made of good quality components and come with a lifetime warranty.

Contents:
Jolt 56,000,000 Mini Stun Gun Black




Nylon holster with belt loop

Disabling pin with wrist strap
*IMPORTANT* PLEASE READ:
You must be at least 18 years old to purchase and possess a stun gun.  
We do not ship stun guns to the following areas:
States/territories where stun guns are illegal or restricted: Hawaii, Illinois, Massachusetts, Michigan, Rhode Island, Wisconsin, Virgin Islands
Counties where stun guns are illegal or restricted: Crawford/Denison County, IA
No sales or shipments outside United States territory.
If you live in one of these restricted areas, please don't buy.
ABS Plastic with Rubberized Coating
LED light, Wrist Strap Disabling Pin
NOTE: Prices, specifications, and availability are subject to change without notice. We reserve the right to correct typographic, photographic, and/or descriptive errors. Size charts are approximate. Please email us if you have questions about sizing or need more details about the item for sale. 
The photos are representative of the item(s) you will receive but are not the actual item(s). The item(s) you receive may differ slightly in condition or appearance from the representative photos but will be substantially the same in terms of their condition, appearance, and functionality. 
Online and store prices may vary
Featured Products