LuminAID PackLite 16 Inflatable Solar Powered Light Lantern Waterproof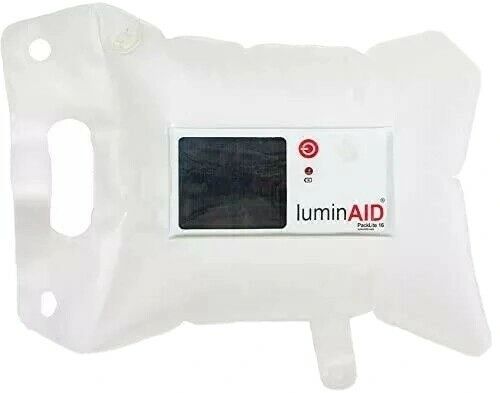 LuminAID PackLite 16 Inflatable Solar Powered Light Lantern Waterproof
LuminAID PackLite 16 Inflatable Solar Powered Light Lantern Waterproof
Updated version of the original LuminAID Solar Light

Provides up to 16 hours of light on a single charge

32+ hour emergency flash setting

Packs flat for easy storage and charging, weighing 2.9oz

Waterproof up to 1 meter deep (FL 1 STANDARD IPX-7) and can float

Condition: NEW

How it Works

Charge

Charge outside in direct sun for 7 hours. Optimum charging occurs when the white LED is off and the red charge indicator LED is on.

*Battery comes partially charged. Charge 7 hours for peak performance.

Inflate

Gently pinch or bite the valve and inflate your light.

Illuminate

Press the red On/Off button to cycle through light settings.

Use in All Conditions

This is an all-weather device. It is waterproof (IPX-7) and can float.

LuminAID's lights are backed by a 1-year full warranty. Visit our official site for more information.
Featured Products