Military Tent Pins | Stakes | USED | 10 Pack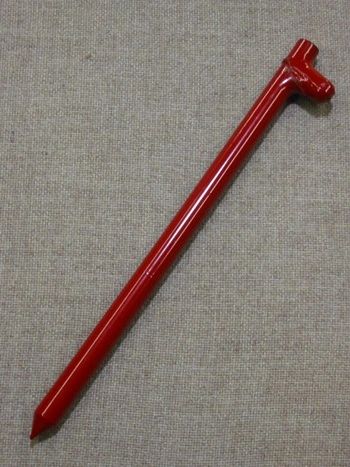 Military Tent Pins | Stakes | USED | 10 Pack
5/8" x 12" Tent Stake - Hot Forged Tent Pin - Red | USED
Each order will receive a pack of 10 (ten) stakes
NSN: 8340-00-823-7451 is a Type II, 12" long, 5/8 diameter, hot forged, steel tent pin that is heat treated to a hardness of 40-48 Rockwell C. This pin has a red, baked enamel finish.
Note: Hardened steel tent pins are used in winter climatic conditions when temperature falls below freezing or for erection on hard ground.
All of the tent stakes are hardened (heat-treated) allowing them to be driven into pavement, frozen ground, and other hard surfaces
The photos are representative of the item(s) you will receive, but are not the actual item(s). The item(s) you receive may differ slightly in condition or appearance from the representative photos, but will be substantially the same in terms of their condition, appearance and functionality.
Featured Products