MRE Case A 2018 Inspection Date Meals Ready-to-Eat, Case of 12 MREs NEW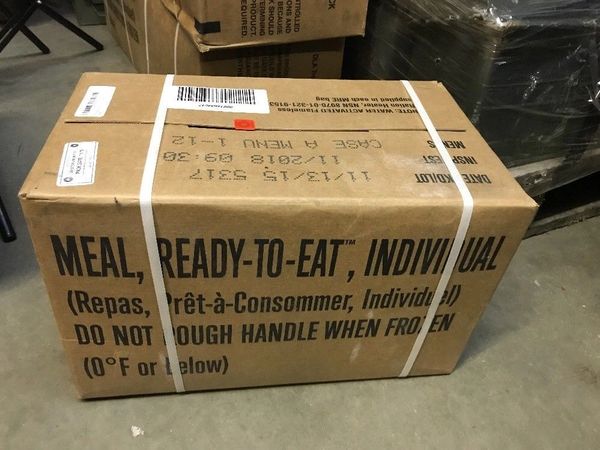 MRE Case A 2018 Inspection Date Meals Ready-to-Eat, Case of 12 MREs NEW
MRE Case A 2018 Inspection Date Meals Ready-to-Eat, Case of 12 MREs NEW
US MILITARY READY-TO-EAT MEAL , CASE A BOX
NSN: 8970-00-149-1094
2018 Inspection Date
Each order will receive ONE case of 12 complete MRE Meals.  Brand New in Original Sealed Package. Menu meals of each case will vary. We do not guarantee you will receive all 12 different menu numbered meals. You may receive 2 or 3 of the same menu meals. These cases were pre-packed and sealed by the manufacturer. We do not open them to check for the different type meals.
Great for emergency preparedness, boating, camping, survival pack, prepping, natural disasters, etc.  
The military meals are made to have a longer shelf life.
Military Case A MREs offer 12 different entrees packaged with side dishes, Candy, Desserts, Drink Powders, Mixing Packs, and the popular accessory pack with Coffee, Creamer, Sugar, seasonings, gum, toilet paper, and etc.  
CASE A MENU 
Menu 1 

Chili w/Beans

Corn Bread 

Cheese Spread,

Vegetable Cracker 

Fudge Brownie

Carbohydrate Beverage

 

Menu 2 

Shredded Barbeque Beef

Seasoned Black Beans

Toasted Corn Kernels

Jalapeno Cheese Spread

Tortilla

Carbohydrate Beverage

Barbeque Sauce

 

Menu 3 

Chicken w/Noodles

Beef Snacks

Cheese Spread

Plain Cracker

Nut Raisin Mix

Candy I

Carbohydrate Beverage

Hot Sauce

Menu 4 

Spaghetti w/Meat Sauce

Baked Snack Cracker

Peanut Butter

Multigrain Snake Bread

Dried Fruit

Cocoa

Jelly/Jam

Menu 5 

Diced Chicken

First Strike Bar

Jalapeno Cheese Spread

Tortilla

Dried Fruit

Candy II

Electrolyte Beverage

Buffalo Sauce

Menu 6  

Beef Taco

Spiced Apples 

Instant Pudding 

Peanut Butter

Tortilla

Jelly/Jam

Carbohydrate Beverage 

Seasoning Blend

Menu 7

Beef Brisket

Garlic Mashed Potatoes

Cookie

Peanut Butter

Snack Bread

Jelly/Jam

Irish Cream Cappuccino

Menu 8 

Meatballs w/Marinara

Au Gratin Potatoes

Pound Cake, Trans Fat Free

Jalapeno Cheese Spread

Snack Bread

Beef Snacks

Carbohydrate Beverage

Menu 9 

Beef Stew

Nut Raisin Mix w/Chocolate

Peanut Butter

Multigrain Snack Bread

Jelly/Jam

Pretzels

Carbohydrate Beverage

Hot Sauce

Menu 10 

Chili And Macaroni

Pound Cake, Trans Fat Free

Cheese Spread

Plain Cracker

Beef Snacks

Candy III

Carbohydrate Beverage

Ground Red Pepper

Menu 11 

Vegetarian Taco Pasta

Wet Pack Fruit

Cookie

Chunky Peanut Butter

Plain Cracker

Nuts, Candy I

French Vanilla Cappuccino

Hot Sauce & Chili Lime

Menu 12 

Vegetarian Spicy Penne Pasta

First Strike Bar

Chocolate Peanut Spread

Snack Bread

Nut Raisin Mix

Electrolyte Beverage

Hot Sauce

Miscellaneous Flavors And Types: 

Candy I: Chocolate toffee rolls, licorice, or mints

Candy II: Pan coated candy, plain chocolate disks, peanut butter disks, or chocolate with peanuts

Candy III: Original, berry, or sour fruit disks

Cookies: Oatmeal, chocolate chip, and oatmeal chocolate chunk

First Strike Bars: Chocolate, or apple-cinnamon

Ranger Bar: Caramel apple, chocolate covered chocolate chip, cran-apple, or banana nut

Nuts: Dry roasted peanuts, jalapeno cashews, smoked almonds, or barbecue almonds

Pound Cakes, Trans Fat Free: Vanilla, lemon poppy seed, spice, carrot, marble, or applesauce

Beverage Powder, Carbohydrate, Fortified: Lemon-lime, orange, or tropical punch

Beverage Powder, Carbohydrate Electrolyte: Fruit punch, grape, lemon-lime, or orange

Meat Snacks: Beef stripes, smoked, or turkey nuggets
Reviews
Featured Products