Olive Drab Ammunition Case 200 Round | Used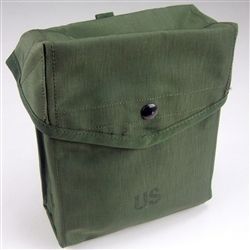 Olive Drab Ammunition Case 200 Round | Used
Olive Drab Ammunition Case 200 Round | Used

Ammunition Case 
Genuine GI Military Issue
NSN: 8465-01-157-4834
Hook and pile fastener
Lid has snap and velcro closure 
Two (2) Alice clips as well as a loop for up to a 4.5" belt
Made of nylon, designed to hold a 200 round magazine
Drainage grommet on the bottom
Tough nylon duck construction (water-resistant nylon)
Plastic reinforced side panels
Color: olive green with US stamped on front 
Approximately Dimensions 9 inches tall x 7 inches wide x 2.5 inches depth
Designed to hold 200 rounds of linked 5.56x45mm NATO (.223) ammunition for use with the M249 S.A.W. (Squad Automatic Weapon) Gun.  This case can also hold up to 7 / 30-Round M-16 Magazines.  Attaches with two standard ALICE slide lock keepers or nylon strap with eyelet on back. 
The photos are representative of the item(s) you will receive, but are not the actual item(s). The item(s) you receive may differ slightly in condition or appearance from the representative photos, but will be substantially the same in terms of their condition, appearance and functionality.
Online and store prices may vary
p.p1 {margin: 0.0px 0.0px 0.0px 0.0px; font: 12.0px 'Helvetica Neue'; color: #454545}
Featured Products