Original US Military Issue - ACU Shirt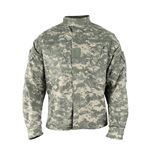 Original US Military Issue - ACU Shirt
Original US Military Issue - ACU Shirt
Slightly used

Select Sizes
The ACU Coat in 50/50 NYCO fabric and it is approved for active duty use by the U.S. Army. The new Army Combat Uniform is a versatile design that offers improved concealment in desert, urban and woodland environments by eliminating sharp lines of contrast that draw enemy eyes. The Army Digital Uniform is NYCO Ripstop construction. Due to manufacturing restrictions, these ACU shirts do not feature glint tape. The ACU Digital pattern shirts have a mandarin collar to reduce chafe from body armor vests. The rank insignia is moved to front center. There is hook and loop fastener for patches and recognition devices. The Army Combat Uniform top has a zippered front closure, an elbow pouch for padded inserts, tilted chest pockets with hook and loop fastener closure, and a pen pocket on sleeve. The ACU blouse bellows for increased mobility. The Army combat uniform has hook and loop closure on the shoulder pockets and sleeve cuffs.

Please call or email us if something is not available. We may have it back in stock.
Pictures are for representation only and may not exactly match the item you receive.

Reviews