Propper Army Trouser - New Spec Uniform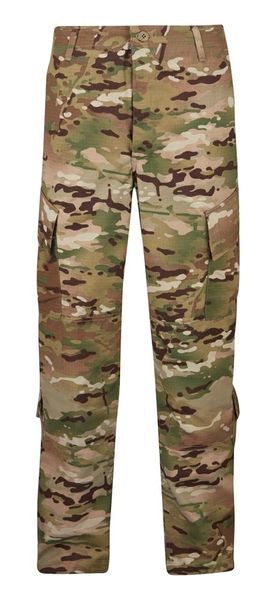 Propper Army Trouser - New Spec Uniform
Propper Army Trouser - New Spec Uniform

It's the real deal. The new Propper ACU Trouser in NYCO MultiCam and Army Universal are authentic military garments approved for active duty use by the U.S. Army. Click here for more on the rugged and durable NYCO fabric.
Overview of ACU Trouser Design Changes: [1] Drawstring removed from waistband [2] Cord and barrel removed from cargo pocket and replaced with button closure [3] Knee patch pad removed and hook and loop for patches removed, but double fabric reinforcement has been retained [4] Hook and loop on lower leg pocket flap replaced with button closure.
The updated Propper ACU Trouser is an authentic military garment approved for active duty use by the U.S. Army. Made of NIR-compliant NYCO fabric, the trouser features forward-tilted cargo pockets with button closures, knee pouches for internal kneepad inserts and bellowed storage pockets on the calf. Blousing on the leg cuffs creates a more comfortable fit over boots. The ACU Trouser is sewn to military specification FQ/PD 07-14A.

Features:
Sewn to military specification FQ/PD 07-14A
50% Nylon/ 50% Cotton fabric is comfortable and durable
Fade-, shrink- and wrinkle-resistant
Felled inseams, outseams and seat seams
Reinforced seat
Button fly
Eight-pocket design
Two tilted cargo pockets with button flaps
Two shin-high cargo pockets with hook and loop closure
Two back pockets with button flaps
Drain holes in bellowed pockets
Durable drawstring leg closures
Updated button closure on lower leg pocket flap
Featured Products