US Military Tactical Drop-Leg Gas Mask Pouch & Respirator Carrier - Avon - USED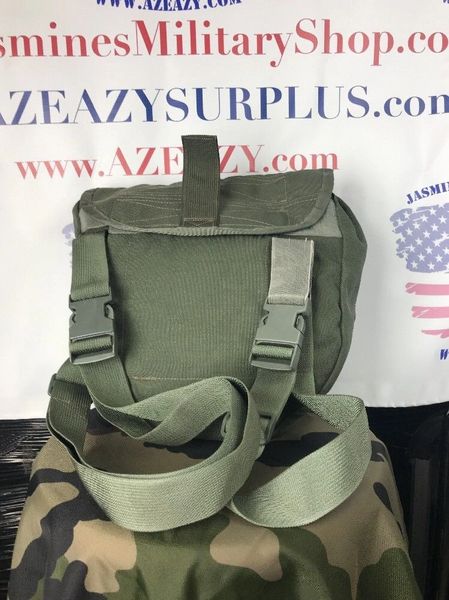 US Military Tactical Drop-Leg Gas Mask Pouch & Respirator Carrier - Avon - USED
US Military Issue Tactical Drop-Leg Gas Mask Pouch & Respirator Carrier - Avon - EUC
NSN: 8465-01-529-0599
Avon Protection Product Number:  71021/1
Protective carrying storage bag / pouch for an expensive gas mask or respirator breathing apparatus. Large enough to carry a full face respirator with filter attached, plus extra room for spare canisters, etc.
Very durable Tactical / Military Build Quality - with Leg-Straps, Shoulder Strap & Map Pocket, Etc.
Easily accessible design helps to accommodate users wearing full protective gear (gas mask, MOPP suit, chemical protective gloves, etc.)  This allows all clips, flaps & hook/loop compartments to have features designed to be easily accessed while wearing thick NBC gloves, butyl gloves, etc.  
Other Features:
Durable Heavy-Duty Adjustable Straps 
Water-Resistant Nylon Material
MOLLE System  
Hook & Loop Closure
Color: Foliage / Sage Green
Can be used as a multi-purpose bag, or a cross-body style bag
Approximate Size: 12 inches x 12 inches x 3.5 inches
Designed for the US Military and Made in USA
Condition: US Military Surplus, previously issued, used condition. ALL BAGS WILL HAVE FUNCTIONAL PARTS (SNAPS, STRAPS, ETC.) They will have signs of moderate use including discolorations, fading, scratches on snaps, small snags or minor holes in fabric, and/or dirt from field use. The bags will not have any major rips, major tears, major holes, or major cuts. The elastic band will have some snags but will be in workable condition. 
ALL ITEMS ARE INSPECTED BEFORE SHIPPING. 
**The photos are representative of the item(s) you will receive, but are not the actual item(s). The item(s) you receive may differ slightly in condition or appearance from the representative photos, but will be substantially the same in terms of their condition, appearance and functionality.**
Featured Products