Used Woodland Camouflage BDU Shirt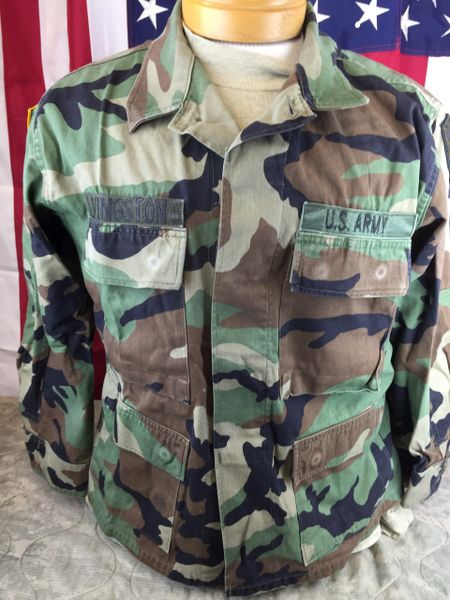 Used Woodland Camouflage BDU Shirt
Used Woodland Camouflage BDU Shirt
The used bdu shirts are sewn to Military Specification MIL-C-440486G. They feature drain holes in bellows pockets, fused pocket flaps and collar, chest pencil pocket, 2-piece double-reinforced elbows, felled side seams and sleeves and adjustable sleeve buttons. These are made in the USA and used by our soldiers. 
Rip Stop or Twill Material, based on what is available
The photos are representative of the item(s) you will receive, but are not the actual item(s). The item(s) you receive may differ slightly in condition or appearance from the representative photos, but will be substantially the same in terms of their condition, appearance and functionality.
Condition: 
US Military Surplus, previously issued, used condition. ALL ITEMS WILL HAVE FUNCTIONAL PARTS (SNAPS, STRAPS, ETC.) They will have signs of mild to moderate use including discolorations, fading, scratches on snaps, small snags or minor imperfections in fabric, and/or dirt from field use. May contain manufacturer, government, or soldier markings. The items will not have any major rips, major tears, major holes, or major cuts. 
PLEASE CONTACT US IF YOU HAVE ANY QUESTIONS!
FINAL SALE. No returns on used clothes. Prices vary in store.

Featured Products